The state of crop harvests around the world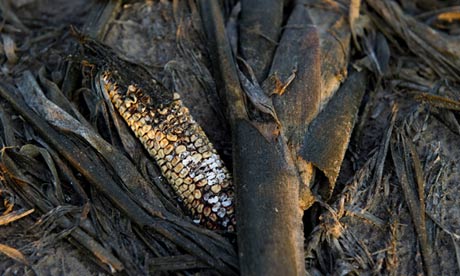 New UN forecasts indicate world cereal production will be reduced by 2.6% in 2012 following last year's record crop. Wheat production is expected to fall 5.2% – largely because of the heatwave in the United States, and other grains by 2.3%. The global rice crop is expected to remain mostly unchanged, with falls in India offset by an increase in China, Japan and the Philippines.
"The decrease will result in a significant reduction in world inventories by the close of seasons in 2013, even with world demand sliding as a result of high prices," said a spokesman for the UN Food and Agriculture Organisation in Rome.
US
Record heat in June and July and the worst drought since 1956 has reduced US wheat, maize and soy harvests by more than 10%. Because the US is by far the world's biggest grower and exporter of grains, this is expected to have repercussions around the world. Farmers are still harvesting their crops but the maize harvest is expected to be the lowest in nine years. Nearly 40% of all US maize is now used in biofuels, further restricting exports and raising prices.
Europe
The European Union is the world's third-largest grain grower but harvests this year are expected to be 5-10% less than last year due to summer heat and drought damage. France and Germany, Europe's top growers, have had a good year but not enough to offset declines in Britain, Spain and Italy. The wheat harvest is expected to be the lowest in five years.
India, Bangladesh, Pakistan
Delayed and then erratic monsoon rains have hit Indian, Pakistani and Bangladeshi rice production. The UN expects India, the world's largest rice producer, to grow 6% less this year after record harvests last year.
Brazil
Brazil, the largest Latin American producer and exporter of grains, expects a bumper harvest partly because it has increased the area under cultivation by nearly 10%. Maize production is up 27% on last year.
Ukraine
Drought in the sowing season has reduced Ukraine's wheat harvest to 15m tonnes, a reduction of nearly 30% compared to last year. Barley and maize harvests are down 5-10%, says the farm ministry.
Canada
The Canadian wheat harvest is expected to be the biggest in three years and the third largest since 1999. But its canola (oil seed rape) harvest was much smaller than expected and well below last year's production.
Developing countries
Low-income countries, mainly in Africa, increased cereal production significantly in 2012, and the UN says these nations will need 5% less food imports. But the total import bill is expected to rise because of higher world prices. Afghanistan has seen a bumper grain harvest, but southern Africa has been hit by bad weather. Morocco, North Korea and Haiti all expect much lower harvests.
Far east Asia
Rice and cereal harvests in the far east (China, Japan, the Philippines) are expected to break all records, says the UN. But delayed monsoon and erratic weather conditions may dampen the final outcome, says the UN.